Step 1. Post a Job #
If you're like most dental professionals, hiring can feel like pulling teeth, and you ALL know what that's like. The hiring process can be tedious, confusing, and often leads to dead ends. You are not alone with your human resource woes!
That's where we come in. Biteline exists because there is a temporary staffing problem in the dental industry. We are here to facilitate communication between you and other dental professionals.
Finding coverage can be a tricky process – but we've tried to make it as simple as possible:
The 'Jobs' tab is where you'll spend a lot of your time, 'My Posts' is your default view – all of your active postings will be managed there. Keep track of the essential details such as the number of applications and offers accepted. Check out our Discover People feature to see matches!
To create a job, tap the '+' on the top right of your screen.

Step 2. Edit Office, Job Type, Position, Pay, and Time #
Now that you've created a Job, you should see options to customize your post. First, tap 'Change Office' and select your office, then choose between a temporary or permanent job. Then, select the position you're looking for. If the position you want isn't there, just select 'Other'. Below that, you can set a range for the rate you're willing to pay. Finally, choose a start date and end date for the job, as well as the hours you need filled. Being as specific as possible in your job post helps us connect you with the exact candidate you're looking for.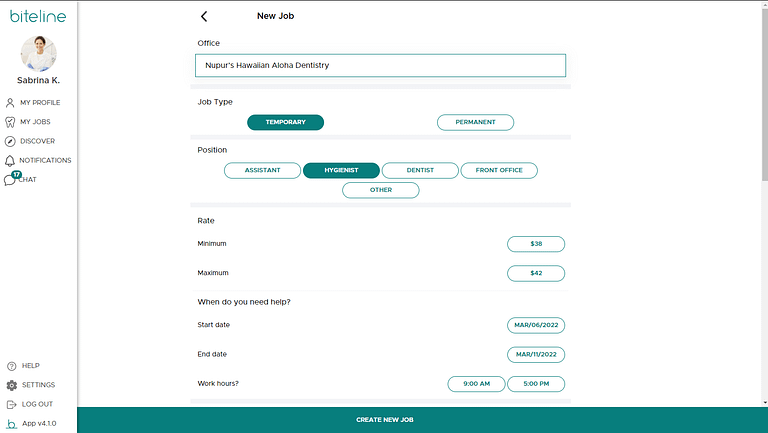 Set the basics – in the top right, tap change office to set your location. Are you hiring for temporary or permanent? Don't forget to add a rate range! Being upfront about compensation makes your job 9x more attractive to candidates. Don't pass up on that! Lastly, set the date + hours and keep on scrolling.