Welcome to Biteline! We are an online space for dental professionals like you to showcase your skills and experience. Employers, candidates, and fellow professionals can learn a lot about you from your Biteline profile, so we're here to help you make a great first impression! Here's how to create a profile that brings the job offers or applications rolling in!
Step 1. Show off your smile with a profile picture! #
Profile pictures are crucial to influencing the way employers and applicants perceive you. Think of it this way – if someone friends you on Facebook, are you more likely to accept that request if they have a picture showing who they are? Here at Biteline, we are! A professional headshot, a company logo, or something else unique – make it your own. Job seekers – check out this article on how to take the best amateur headshot.
To add a profile picture to your Biteline profile, click on the button labeled "Your Profile" (located on the bottom right side of the screen), tap the figure above Your Name (shown above), and choose a photo!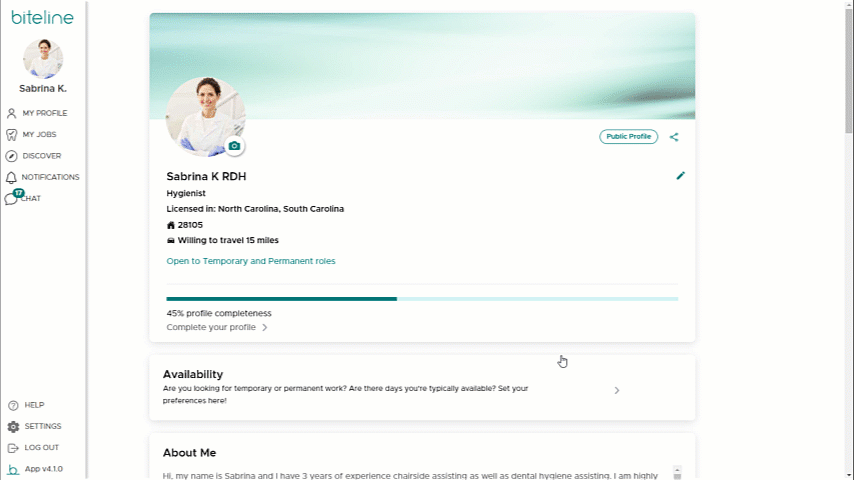 Step 2. Write an 'About Me' #
Below your profile picture, you'll see an "About Me" section. Tap on it and type a short description of you, your experience/skills, and anything else you want employers or applicants to know. We all want to put our best foot forward, and your description is the first thing someone will see, so make it your own!
Step 3. Update your availability settings #
Here at Biteline, it is our goal to make it as easy as possible for dental professionals to find work that aligns with their schedules and for dental offices to find applicants that can fill their needs. Here is how to adjust your availability as a professional searching for work:
Tap the icon in the bottom right corner to access your profile. There, you will see a box labeled "Availability", tap that! From there, you can adjust whether you are searching for permanent opportunities, temporary opportunities, or both by tapping the slider to the right.
You also have the option to edit which days of the week you are available to work simply by tapping the bubble under the corresponding day of the week! Below that, you can select the exact days that you are available to fill-in on the calendar. The more specific, the better!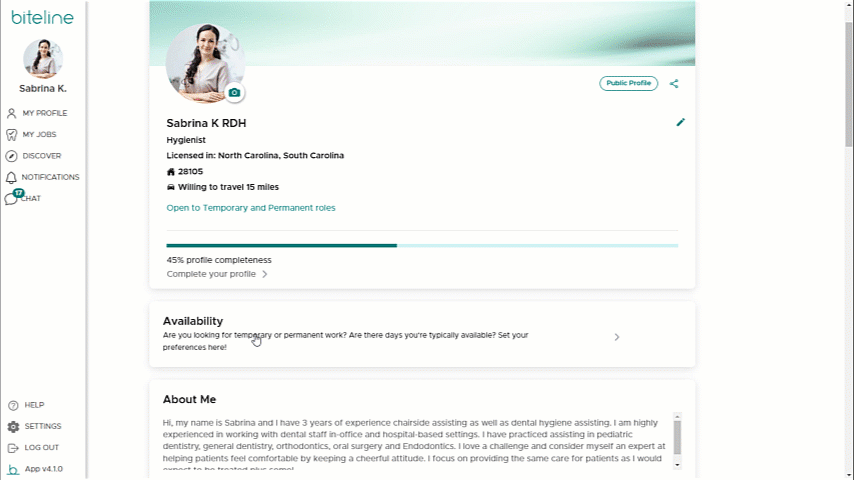 There are a few ways other users can see your Biteline profile:
When you post a job, you'll be listed as the 'Poster'.
When you apply to jobs, your profile will be sent to the job poster.
Our premium users may find you on Discover People.
Number three is the most important here. If you don't want to receive messages about potential jobs – make sure to toggle 'Browse Anonymously' at the top of the page. You'll still be listed if you post jobs, but your profile won't be seen on Discover People.
Now you're ready to sink your teeth in and fully experience all that Biteline has to offer! Use this opportunity to network and meet dental professionals to help you achieve your career goals!
And once again, welcome! We're so glad you're here.